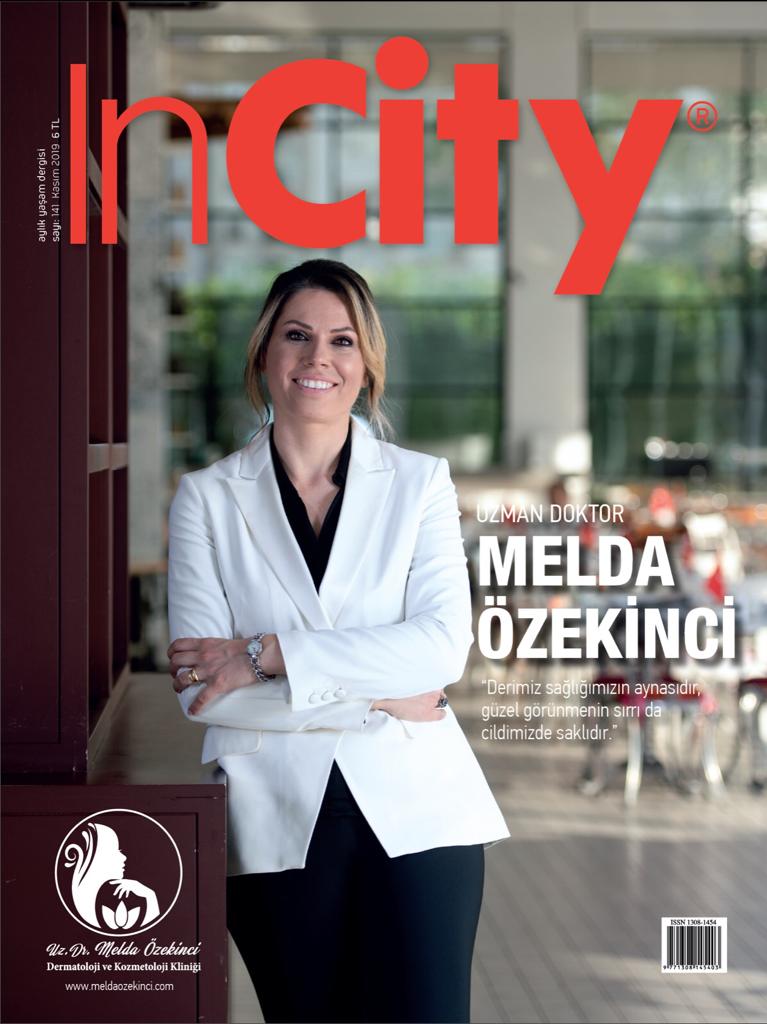 This month, I encourage to our readers  to carefully read our'' 5 Tea with Güldal section''. Because I think this is a great chance for Antalya to know that at Weill Cornell Medicine, which is considered one of the top 10 universities in the United States, a young, valuable, and well-trained specialist in the field of dermatology and cosmetology, Dr. Melda Ozekinci, who became my guest ...We received very important information from her, including known bugs and points to consider when using aesthetically. Here are the details reflected on our pages from our pleasant conversation…
Miss Melda, I would like to briefly introduce you to our readers
Of course, first of all, thank you very much for opening your magazine to me. I was born in 1979 in Antalya. I am married and mother of two children. I am from Antalya Kaleici. I received my primary, secondary and vocational education in Antalya. In 1997 I graduated from Akdeniz University Faculty of Medicine with third place. I graduated from the Faculty of Medicine in 2003. In 2004, I worked for some time as a research assistant doctor in the neurology department. Then, in 2005, I started working as a Research Fellow and Physician Assistant in the Department of Dermatology. In 2011, I received my specialization at the Faculty of Medicine of Akdeniz University, Department of Dermatology. After I became a medical specialist, I continued to work for some time at the Medical Faculty of Akdeniz University. Later, I completed part of my mandatory service at the Aksaray State Hospital and the rest at the Antalya Atatürk State Hospital. Between 2011 and 2016, I served our people as a specialist in dermatology at the Atatürk State Hospital in Antalya, for a total of 5 years. In the period from 2016 to 2017, I worked as a specialist doctor in the dermatology and cosmetology clinic of OFM Private Hospital in Antalya. Between 2017 and 2018, I was an Observer Specialist in the Department of Dermatology at Weill Cornell Medicine (New York, USA). I have been involved in the diagnosis and treatment of many children and adults with complex dermatological and autoimmune diseases. At the same time, I had the opportunity to see and learn, and safe cosmetic approaches by participating in cosmetic procedures and surgical interventions in this dermatology clinic. From now on, I will continue to share my knowledge and experience in dermatology and cosmetology with you, our valuable people, in my own clinic located in Gökay Plaza.
You are the only person from Turkey who was admitted to the Department of Dermatology at Weill Cornell Medical University in New York, USA, which is considered one of the top 10 universities in the world, where you were a specialist doctor between 2017 and 2018, participated in scientific activities and of course it's a huge success. Could you tell us a little about your work there?
Yes, getting into this clinic in New York is really difficult. In the same way, dozens of applications come in every day from all over the world for the role of researcher or observer in this clinic, but, unfortunately, only one or two people are accepted per year. Till now I am the only person from Turkey who has been admitted to this clinic as a specialist in dermatology. There are two ways to get to such clinics. One of them is accepted only on a research basis, the person works on one topic, it has little to do with the patient or the clinic. Another way of working is how I worked, you work as a doctor-observer and participate all day in the examinations, procedures and treatment of both adult and pediatric dermatological patients, as well as cosmetic patients in the dermatology department. Through this study, I learned the difference between the education I received in Turkey and the education in the United States. I looked very carefully. I had the opportunity to learn about the latest treatments and approaches applied to adult patients and children. I have also been involved in all cosmetic dermatology treatments and have seen that they are way ahead of us and have used many different techniques in their application. The cosmetic results were truly impressive, natural and pleasing. I have also participated in laser procedures, which are separate for each disease. I was simply amazed when I saw that a doctor does laser hair removal for a patient from start to finish.
What would you say about the technological equipment of your clinic in Gökay Plaza?
All technological tools and equipment, medical supplies and medications that we use in our clinic are FDA approved products with proven reliability and effectiveness. All products used in our clinic are opened for one patient and kept for that person so that the process can be monitored if necessary. If any product remains after the complete cessation of medical use, it is destroyed and this product is never used for another patient. After I returned from the USA, I wanted to do something different in Turkey, and now I am gradually building here a similar clinic that I saw there. Of course, this is a very costly job, but success lies not in repeating mistakes, but in multiplying the truth. Our laser hair removal and electrocoagulation device are devices that are currently actively used in Cornell's dermatology and are very high-end devices. In fact, it makes a very big difference in our results here. The quality of the device is very important for obtaining a good medical result, but this is not enough. It is equally important to own the device and to know which device settings should be applied to a given patient. This is about your knowledge and your research. Our epilation machine in our clinic is an alexandrite laser, which has been widely used in epilation since 1997 in the world. . Alexandrite laser is the best in terms of effect compared to other lasers. In terms of the risk of side effects, this device has the fewest side effects. It is used on both fair-skinned and dark-skinned people and can be effective on both black and light hair because it can reach the deep part of the skin called the dermis layer. Alexandrite laser can be used on any part of the body, including the face. Already after the first session, 40 percent of the hairs are reduced. In just 4 or 6 treatment sessions, almost all hair disappears. Alexandrite laser is less painful than other hair removal lasers. I see patients in Antalya had too many laser hair removal sessions, sometimes 20 sessions and sometimes 2 or 3 years of hair removal. This is just one of the mistakes made... I think it's because some clinicians are trying to do hair removal, medical practice, seeing each other or not doing enough research, for financial reasons, with cheaper copies of devices that do not use real alexandrite technology, but include "alex".The real alexandrite technology is a technology of at least 70 thousand dollars and its effectiveness is most proven, it is a technology that brings 95% success in 4-6 sessions. We also use this technology with our patients and our results are quite excellent. There are also some consumables for dermatology and cosmetology, all of these consumables used in our clinic are exactly the same as in Cornell. Companies that import such products into Turkey sometimes tell me, "This needle or material is only used by you, no one else is using it." Yes, our difference is that we pay attention to details, and this is necessarily reflected in the results of our work. My patients who have undergone cosmetic procedures or interventions are never left with swelling and bruising after treatment. On the contrary, they leave our clinic very happy and confident.
We know that aesthetic and anti-aging procedures are intensively used in your clinic. Could you tell a little about it?
Filler and Botox procedures are the first among the rejuvenation procedures that we use in our clinic. When we look at the United States, where these procedures are performed very well, we see the Botox process first as a rejuvenation process, followed by a filler treatment. Botox and fillers are also widely used in our country. Botox and fillers are also widely used in our country. However, in Turkey, these transactions are carried out by providing short-term courses and certificates sponsored by some companies far from science, by observing each other, which leads to the repetition of errors in some procedures. Abroad, these practices are carried out much more consciously and rationally. The field called aesthetics, rejunevation is now accepted as the field of dermatology, and in this sense it has become an integral part of the training in residency in dermatology. The methods of Botox and fillers that I now use in my clinic are based entirely on the knowledge and experience I gained in New York. Therefore, our patients look very natural and young. In addition, there are no negative consequences after the procedure. Regular skin care treatments for rejuvenation are among the services we provide to patients in our clinic. In addition, we use other services in the field of cosmetic dermatology in our clinic, such as: mesotherapy, hair treatment and chemical peeling, dermapen dermaroller procedures. A large number of our patients in our clinic prefer the session that we use - mesotherapy: to burn unwanted fat, which we call cellulite, lipolysis, to correct the figure, to start losing weight, to rejuvenate old and sagging skin, to remove scars, from acne , for the treatment of stretch marks that occur during and after pregnancy, as well as for the rejuvenation of the neck and hands. . Even after one session of mesotherapy, patients can see the difference. In my clinic, I recommend mesotherapy instead of Botox, especially for my patients in their 20 yers old. Because mesotherapy with the right preparations and technique prevents the early formation of wrinkles.The medications I use in mesotherapy are 100% safe and each one is FDA approved.hair treatment preparations are also used in our clinic for the treatment of androgenetic alopecia, alopecia areata, hair loss, thickening of fine hair, acne scars, acne vulgaris, striae, skin rejuvenation, correction of wrinkles on the face and neck, improvement of skin tone and elasticity, removal spots on the skin. hair treatment is getting more and more attention every day, as well as highly sought after patients. Since it is made from a person's own blood, there is no possibility for any effects or side effects.
As a dermatologist, what advice do you have for women?
My advice is to first get a skin examination by a dermatologist, and after that, care and treatment should be carried out according to the condition of the skin. Using sunscreen or a moisturizing cleanser on problematic skin can do more harm than good. Moreover, doing skin care at home is wrong. Because, unfortunately, they cannot know which beauty products will be used in which order. To do this, they need to know the skin very well and know in detail how the contents in cosmetic products affect the skin. As you can imagine, this requires a medical professional. The skin care we apply to our patients at our clinic is medical, professional, and we choose different products for every skin type. Each product is selected for the skin in order and regularly over a period of time. In addition, I must say, emphasizing this: Whatever age you are, do not put off cosmetic procedures for later. Every beauty treatment we perform in our clinic will make your skin even more beautiful. We cannot stop time, but in the hands of dermatologists, prevent aging and make you younger and more beautiful.
Ms. Doctor, do you have any plans or projects to study abroad in the future?
First of all, as a doctor, I always follow up-to-date, reliable publications. I always strive to ensure that both I and my team working with me are at the highest level of education, knowledge and skills. My connection and communication with my professors abroad continues to this day. These are very respected people, devoted to their profession, who understand that being a good doctor is, first of all, to be a good person, who do not hide their knowledge and devote themselves to education. This summer we will have as observer doktors in the USA for at least 1 month with observer status. I would like to continue my studies abroad in this way for 2-3 years.
And the last question, you come from a very ancient generation of the Antalya family, and come from Kaleiçi. We also know that you love Antalya very much. But could you tell us about two more cities outside of Antalya where you like to be?
Antalya is my home and people love their home very much. Besides, I think we are all very lucky to live in such a beautiful city. If I had to name two more cities in which I like to live outside of Antalya: I will say that these two cities are Istanbul and New York.